Our League Enjoys:
• 10 Game Season

Plus a 2 Round Playoff

All Games Played at Chelsea Piers

Advanced and Recreational Divisions

Beginners Welcomed!

Post Game Happy Hours at our Sponsors throughout the Season

Team Shirts

Refs, and Score Keepers

League Socials
Contact us at:
Email
boys@nycgaybasketball.org
Connect with us on:


Check Out Our League Calendar



We've made it easier to add your games and league events to your calendar.
LEAGUE PHOTOS
Not playing this Spring?


You can still become a member of the site by creating an account here. Creating an account allows you to interact with other members in the league and also makes sure that you get notices about all league events, parties and promotions!
Welcome to the NYC Gay Basketball League's Men's Division
We are New York's first official gay basketball league. Since our founding in 2006, we've maintained and grown an athletic environment free of discrimination for members and friends of the Lesbian, Gay, Bisexual and Transgender (LGBT) community.

The League Strives to promote positive values in our community and continues to fight to eliminate any negative stereotypes associated with LGBT athletics.

Most importantly the league is a fun way to meet great guys in the community. With advanced and recreational divisions there's something for every level of player.

Enter Our First Ever NCAA Tournament Bracket Challenge!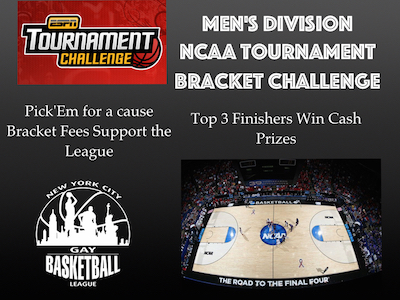 Check out highlights from last season below and register to be a part of it this season!







The League, as a non-profit, depends on corporate and individual sponsors to offset the operating costs of our biannual seasons. Donations ensure that costs of court rentals, insurance and in-game necessities are not passed along to current and prospective players. Through the generosity of sponsors, league fees are kept well below comparable NYC Leagues and the League is able to offer player assistance to those members of the community wishing to play in a safe and welcoming environment who do not have the financial means. If you're interested in becoming a sponsor and learning more about the benefits of sponsorship please contact board@nycgaybasketball.org

Spring 2015 Schedule

Sunday March 8, 2015 - 8:00pm to 10:00pm
New Player Evaluations
Sunday March 15, 2015 - 6:00pm to 9:00pm
Week 1
Saturday March 21, 2015 - 7:00pm to 10:00pm
Week 2
Saturday March 28, 2015 - 7:00pm to 10:00pm
Week 3
Sunday April 19, 2015 - 6:00pm to 10:00pm
Week 4
Sunday April 26, 2015 - 6:00pm to 9:00pm
Week 5
Sunday May 3, 2015 6:00pm to 10:00pm
Week 6
Sunday May 10, 2015 - 6:00pm to 9:00pm
Week 7
Sunday May 17, 2015 - 6:00pm to 10:00pm
Week 8
Sunday May 31, 2015 - 6:00pm to 9:00pm
Week 9
Sunday June 7, 2015 - 6:00pm to 10:00pm
Playoffs - Semifinals & Finals

League Videos and Photos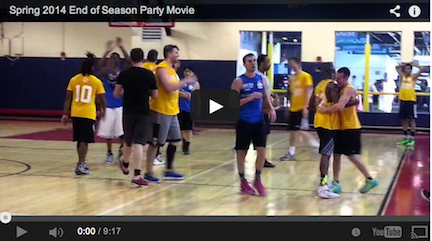 League Calendar
We've updated the calendar with pick-up games and bar events in August. Plus added in important dates regarding registration, new player evaluations and the start of the regular season. Be sure to add the events to your calendar and send us any events you would like to add.

Watch the videos below to learn more about the league.